8:45 Update
Below is something I just read this morning and applies not only to stock trading but handicapping sports:
It's courtesy of @trader_Dante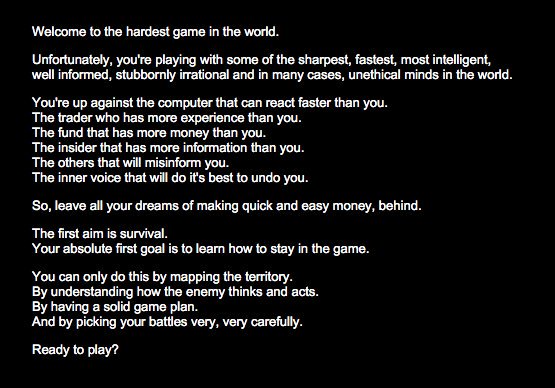 Japan last night decided to hold the course on stimulus and the addict that the markets are plunged on the news. Is this a forcast of things to come?
Interestingly we get a reverse of yesterday with the Nasdaq holding strong.
If your swing trading right now unless your an excellent stock picker your getting whipsawed a bit. That comes with the territory. One was to reduce the effect of this is to have a filter to use for position sizing. So one simple filter would be if the market is over the 10 day MA use the higher % for a trade and below the lower %. For me that would mean risking 1000 a trade or 500.
There are other filters you could use but the idea is to have a plan and do it.
I am net long now on my swing trades which were looking grim on the open but are starting to look fairly good right now.
Not much else to report this morning except we are in the middle of earnings season which means you should be flat on a stock before earnings unless your a die hard gambler or in the know:)
More on sports a bit later but a 2-0 day yesterday for +1.76 units!
Good Luck Today
RickJ
RickJ's Handicapping Picks